Anyone interested should attend the meeting and bring along with them a letter of intent.

Join us at our Monthly Meetings, every 3rd WED of the month, at GT Senior Center.

GTCSC Board Positions Still Open

The following board positions are open:

TO BE ANNOUNCED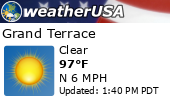 Referee Always Needed

Posted March 8, 2012

If Interensted in TOPSoccer

Contact Richard Irwin at 909-783-2539

Posted March 1, 2012

Grand Terrace Community Soccer Club Facebook page

Please visit the Grand Terrace Community Soccer Club Facebook page for last minutes updates, changes, and information regarding the day-to day goings on at GTCSC. Become a friend today and share your comments and perspectives! Please try to keep it constructive. Persistent negativity and personal attacks will be removed.

Posted February 21, 2012

2011 © Grand Terrace Soccer Club,  All Rights Reserved

NEW MEDIA SPONSOR:

The City News Group has become the media sponsor for GTCSC. City Newsgroup publications include Grand Terrace City News, Colton City News, and Loma Linda City News. We are very thankful to Margie Miller and her staff at City News Group for their past, present, and future support to our children. Through their sponsorship GTCSC have been able to purchase new goals. In addition, GTCSC will be provided free advertisement in all 3 of its publications. An added bonus for our players is that periodically a spread of player pictures and articles will be published in the centerfold and available to pick up at the snack bar every Saturday. We want to express our gratitude and appreciation to City Newsgroup for their generous support to our children in our community.

IMPORTANT INFORMATION

(DOWNLOAD)

SPRING SOCCER REGISTRATION

PICO PARK

Saturday Feb 1 from 9am-12 noon

Wednesday Feb 5 from 6-8pm

Saturday Feb 8 from 9am-12noon

Wednesday Feb 12 from 6-8pm

Wednesday Feb 19 from 6-8pm

Ages 4-16

July 14th - 18th

9am-12pm

At Richard Rollins Park in Grand Terrace

$100 for a 5 day 3 hour session with Top Quality coaches and players from the UK

Register online at:

Get $25 discount when you register between Feb 15th and Feb 28th